Mission
Popcorn, sparkle, & JOBS! Prospector Popcorn is a tasty treat on a mission. When you snack on our sweet and savory combinations, you're helping to create competitive and inclusive employment for people with disabilities. Sit back and enjoy while we work and employ!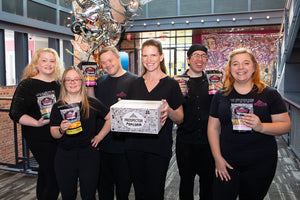 Our Gourmet Popcorn is popped fresh daily at the Prospector - a 501(c)(3) non-profit dedicated to competitive and inclusive employment for people with disabilities. Employees of the Prospector are known as Prospects, and we live a higher quality of life through the popportunities that meaningful work provides.
We're movie people. When guests join us for the latest blockbusters, they are dazzled by our sparkle - the talents and passions of Prospects. Our Gourmet Popcorn is a popular part of our moviegoing experience. Professional popcornistas transform traditional theater-style popcorn into sparkling showstoppers worthy of standing ovations. 
Once we saw it popping off the shelves at the concessions stand, we knew that the popcorn nation needed this poptacular sensation. We expanded our operating procedures and began shipping to every kernel of the globe. 
And with every morsel munched, we create more jobs for America's most talented - yet underrepresented - population. And we promise our Gourmet Popcorn is much butter than our corny puns.
Our gourmet Popcorn has been enjoyed by