Corporate and Business Gifting
Treat Your employees and Clients to Gourmet Popcorn Gifts
We would love the opportunity to supply delicious gourmet popcorn for all of your client gifts, professional events, and business needs.
With a full range of fantastic and original popcorn flavors for every occasion, their taste buds will thank us while helping share our important mission of competitive and inclusive employment for people with disabilities.
Our Gourmet Popcorn comes professionally packaged by our staff for an ideal corporate gift, employee appreciation, or as a thank you to clients.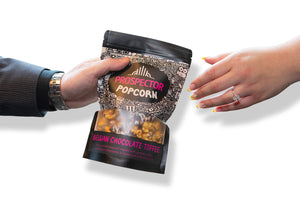 Contact us today
Please fill out our contact form below and our professional gifting staff will be in touch to help arrange your gifting plans.
Holiday flavors NOW AVAILABLE for 2023/24 pre-order!
You can also email us directly at support@prospectorpopcorn.org